Removable Core Elements and Heaters
Standard ceramic element assemblies used extensively in heaters for Bitumen, Water and Chemical storage tanks. Manufactured using either 45mm or 35mm ceramic segments these are designed according to the customer requirements.
Lengths of elements can be as short as 200mm and up to 10000mm. The length depends on the rating watts density, the length of the cold and heated sections. The maximum standard construction is normally restricted to 6000mm. If longer is required then an extended cold section can be fitted. See drawings below

Please ask our design team for assistance to design a suitable element for you. We need to know watts, voltage, length, diameter, number of phases and application.
Removable Core Heaters

Single or multi tube immersion heaters with standard off the shelf circular flanges to customer specification. Constructed in Stainless Steel, Mild Steel or Carbon Steel. Main applications are Bitumen, Chemical or Water Tanks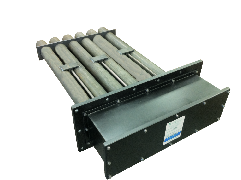 Multi tube immersion heaters with rectangular flanges to customer specifiaction. Constructed in Mild or Carbon Steel with extended bottom row for long horizontal tanks. Main applications are Bitumen and Bulk Storage tanks.
Screw Plug Immersion Heaters
More info about screw plug immersion heaters coming soon.
ATEX Heaters
More info about ATEX heaters coming soon.