Immersion Heaters suitable for hazardous area Zone 1, for applications where Hydrogen and other gasses are present.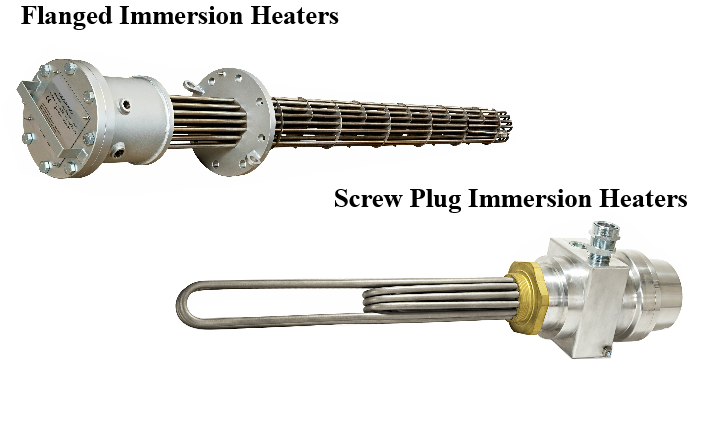 Designed and certified in accordance with the PED and ATEX directives. All our Atex Heaters are designed and manufactured for specific applications.
Flange Materials: AISI 304,321,316 Stainless and Carbon Steel
Elements Diameters: 8.5mm, 10mm and 16mm.
Element Sheath Material: AISI 304, 321, 316,309 Stainless Steel, Incoloy 800 and 825. Titanium for special applications.
Screw Plugs: Brass or Stainless Steel.
A typical ATEX HEATER spec explained – eg: II 2GD Exd 11B Exd IP65. See attached PDF for full details
2 or 3 – Indicates the category
GD – This indicates the property of the explosive area
T1-T6 – Indicates the maximum temperature that can be reached by any part of the heater that is exposed to the explosive atmosphere.
EXD – The function of this type of enclosure is to prevent the propagation of an internal explosion to the surrounding area.
IIB – IIC – Indicates the type of heater mounting.
IP – This specifies the amount of protection against the ingress of moisture and/or dust to the terminal box.