Screw Plug Immersion Heaters
Our standard range of quality immersion heaters are suitable for most water applications in the UK. Constructed wuth Incoloy 800 corrosion resistant elements brazed into a brass flange and fitted with a control thermostat adjustable between 40 and 120 c.
The terminal box is IP65 rated, manufactured from polyamide and fibreglass which gives a tough damage resistant construction. It can be rotated through 360 degrees so that the cable entry glands are inn the correct position.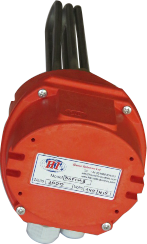 The range of immersion heaters have been designed with a maximum watts density of 10watts/cm2. See list below. Maximum operating pressure 10Bar.